Compression socks donated by INDESmed to nurses and health workers in Madrid to alleviate fatigue.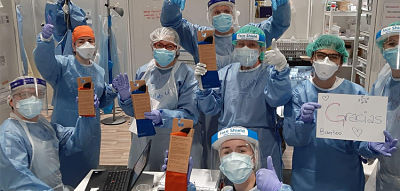 Compression socks to help during Corona Crisis

INDESmed, specialized in mobility, rehabilitation and vision, is donating hundreds of compression socks made of bamboo fiber, Bamboo Smartec ®, designed to improve circulation of blood in the legs, to the health staff of the IFEMA Hospital and the Puerta de Hierro Hospital in Majadahonda, with the intention of improving the welfare of these professionals who fight daily against COVID-19.

INDESmed's CEO, Rafael Vidal said: "Within our possibilities, and in line with our principles of Corporate Social Responsibility, we believe that we must do our bit to improve the situation of stress that all health workers are enduring in this titanic fight against the Coronavirus pandemic," and added, "we hope that our compression socks made of bamboo fiber fabric help to provide some recovery and comfort to these professionals during and after their exhausting workdays in these hospitals.
Advantages of organic bamboo fibre in compression socks.

In addition to its sustainability, bamboo fibre has antibacterial, hypoallergenic, breathable, thermoregulatory and hygroscopic (absorption of humidity from the skin) properties. If we add to these properties a medium compression, we can improve blood flow, providing a relaxing and oxygenating effect on the legs. This is a natural way to help you rest after long days of intense activity.

INDESmed is studying other solidarity actions for Senior Centres, which are not forgotten in this difficult situation.
More about INDESmed

INDESmed is an SME located in the Community of Madrid, specialized in mobility aids in carbon fibre and aeronautical aluminium, as well as specific natural fabrics in bamboo fibre, being the first manufacturer in the world to include this sustainable natural fibre in compression stockings.
INDESmed continues to telework according to the indications of the Health Authorities.
Author:
,

contact:
info@indesmed.com