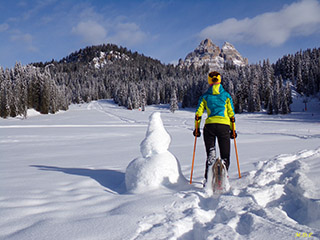 Crutches on the snow: Marta, an example of personal growth
As you may know, we usually get a lot of feedback from our users. However, lately we have been receiving really nice stories; one of them, thanks to a picture posted on Facebook by Marta Da Pra, a 39 years old woman who uses INDESmed's aluminium crutches on her trips to the snow. When we first saw the picture, we absolutely loved it. It was taken behind her, so she is facing a huge snowy surface, a beautiful mountain and a woods. The sky works as a perfect blue frame, and Marta is wearing some bright colors that contrast nicely with the snow. Want to know more about her adventure? Keep reading!

Hi, Marta! Thanks for letting us interview you. First of all, we would like to know how long have you been practicing sports.

Hi to all INDESmed team and thanks for your interest in my story. I have always practiced sports, running and Nordic skiing (from 6 to 21 years) then I stopped when I found out I had cancer of the bones of the pelvis and femur.
After many surgeries of bone reconstruction, and a new knee prosthesis (in February, 2015), in July 2015 I started again to walk over the mountains with crutches, thanks to the stimulus and the advice of a friend, who has been using this system to climb higher and try again the joy of living the mountains.

Tell us about the picture: where were you heading to? Did you enjoy? Was it difficult to walk on the snow with crutches? It looks like there is so, so much snow!

The picture was taken in Misurina (north of Italy, near Cortina d'Ampezzo) a few kilometers from where I live, and my eyes were turned to the famous Tre Cime di Lavaredo, mountains that I love and where I started my new adventure with crutches. It's very strenuous to walk with crutches and snowshoes in powder snow, but this is the only way to feel free to go where I want, to find peace in the silence of nature that surrounds me.

What other sports do you like to practice?

Before the new knee I could only ride a bike, because walking was very tiring and painful. Now it's the opposite, I walk a lot. To ride the bicycle again will be a new challenge in 2016.

Do you have to use crutches permanently or is it for some time?

I use crutches just to walk over the mountains. In everyday life I always have to use a cane.

How did you know INDESmed, and why did you decide to try our crutches? Would you recommend our products to other people?

I found out your crutches after a long search on the internet. I wanted a lightweight and durable product. When I saw your crutches, colored, I fell in love and decided to try them. Above all, I was happy with your immediate answers to my questions. I recommend your crutches also because they allow even the slightest height adjustment, for a better comfort.

INDESmed's first concern is to help people improving their quality of life when using certain orthopaedic devices, such as crutches and canes. How far do you think we get our goal?

I believe that yours is a good product, and now that I have the certainty, I would also try your cane.

And, last but not least, do you have any advice on practicing sports while using crutches?

I started to walk over the mountains with crutches because I can discharge a lot of weight on my arms, safeguarding the prostheses of the pelvis and leg. After a while I found myself, just for fun, to take part in vertical races and now with snowshoes.

For my needs, although it could be useful to all those people who want to follow my example, I have already suggested you to find the solution for a tip (such as Nordic walking sticks) to be applied to the crutch to get a better grip and push.

INDESmed's team wants to thank Marta for her support to our company and her time. We are looking forward to seeing you accomplishing your new goal of riding that bike!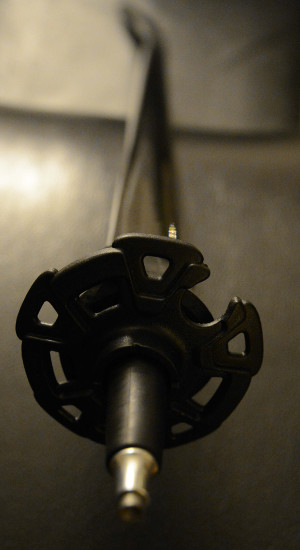 Return to INDESmed Blog
Share!