Wazken Kazanjian is experimenting with INDESmed products in his own rehabilitation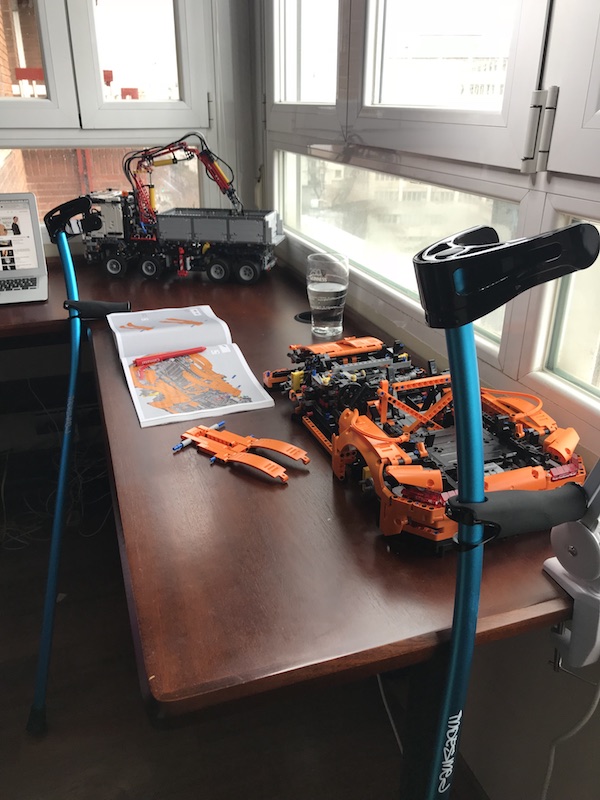 A traffic accident turns the routine of a trauma specialist into an INDESmed product user

We spend a large part of our lives at work, leading our efforts to improve people's lives.

Our satisfaction is your well-being, so, having the chance to meet you, share and help you through our INDESmed products is a real pleasure that we are happy to share with you all.

An unexpected accident changed Dr. Wazken's routine a few days ago by making him a user rather than a prescriber.

Dr. Wazken is one of Spain's most prestigious orthopedic surgeons and trauma specialists, trained at the La Paz Hospital in Madrid.

He suddenly entered the skin of any patients whom he served for more than 40 years, and decided to trust INDESmed to be part of his recovery.

Wazken had already known us since his wife began marketing our crutches and sticks in her Pharmacy sited in the picturesque neighborhood of Chueca in Madrid.

It's a bohemian neighborhood, where the design and color of the INDESmed forearm crutches and walkers seem to be made for each other. INDESmed fits perfectly in the neighborhood perhaps the most "cool" of the Spanish capital.

A fall on a public road because of the irresponsibility of a dog owner who had "forgotten" to pick up the excrement, caused a fracture that led him into the operating room, this time as a patient, to correct a broken hip.

We thus had a unique opportunity to directly hear from him about our two-step rehabilitation products. So we could discuss his first-hand experience now from the patient's point of view.

INDESmed would be at his side to help him in the early stages of his rehabilitation.

INDESmed: Could you tell us what are the benefits that INDESmed offers to thousands of users in 30 countries that use some of our creations daily for better mobility.

Dr. Wazken: The proposed ergonomics is clearly different from traditional or conventional crutches and walkers. The curvature of the oval tube or axis of the crutches, the way of "placing" the palm on the handles, technically perfectly adapted to obtain the maximum possible contact surface, avoids tendonitis. Tendonitis usually appears when using other aids, and requires surgery that I do myself as a surgeon in the carpal tunnel. Then the recurring pain in the palm of the hand that usually appears, increases the logical discomfort that involves a postoperative rehabilitation process. INDESmed ultimately improves the quality of life of the patient at this stage, and thus contributes to a less "traumatic" recovery.

INDESmed: As a patient, what is the first thing you saw on the walker and forearm crutches of our brand? What feeling did they send you?

Dr. Wazken: The friendly design and the bright colors, the truth is that they help you when you use both walking aids.

At the end your perception of your crutch changes obviously, when you change from gray and traditional design to an aid like yours, modern, pleasant to see and with pleasant colors for the senses. The feeling I have is that my crutches are a complement like the watch or the shoes that I wear regularly.

It's as if I put on my most appreciated watch and my most comfortable shoes to go out. That's how I see my crutches these days.

INDESmed: Is it true that the ergonomics, color and design of our products have improved your level of comfort, even though you are at a recovery process after surgery?

Dr. Wazken: A pleasant environment promotes the well-being of the patient in the rehabilitation process

Colors and design are an asset added to the environment, like not being cold, that there is no excessive noise, or just to receive the love of your wife.

Everything is added and everything contributes to the quality of life in a phase like this. Obviously, it's appreciated.

INDESmed: Do you think that the INDESmed concept of aids to mobility has helped make recovery more bearable as a patient?

Dr. Wazken: Yes, I have said it before. By sure, avoiding tendonitis, pain in the palms and shoulders, physiologically maintaining a correct supportive position, helped, and after three weeks I progress very satisfactorily and in a very positive mood. I think that your products are contributing.

Dr. Wazken Kazanjian is a well-known Syrian professional who has been living in Spain, a country he has deeply loved for more than 50 years, and continues to receive patients every day after working in the medical field for over 40 years.

He got his job at the Hospital of La Paz in Madrid, and later worked in public and private health (Nra.Sra.Loreto, etc ...) mainly in Madrid and its surroundings, for more than 42 years .

In addition to his sociability, his joyful and friendly character, we discover his great love for Lego ... thousands of pieces that sometimes require months of patience to unite.

In this period, he is in the middle of the assembly phase of a Porsche. The incredible patience and precision of the surgeon are two qualities necessary to complete these mechanical puzzles. Orthopedic surgery has something Lego ..