Cool Forearm Crutch Description

Now you can take advantage of all the ergonomic features of our carbon fiber crutches series just with some extra weight.
The INDESmed aluminium color crutches series keep the exclusive curved an oval frame, and are available on four amazing mate colors to fit your favourite style.
You will not suffer tendinitis during your recovery, and you won't have pain in the hand as usually happens with standard crutches.

Keep being the coolest guy on town! Buy INDESmed cool color crutches series!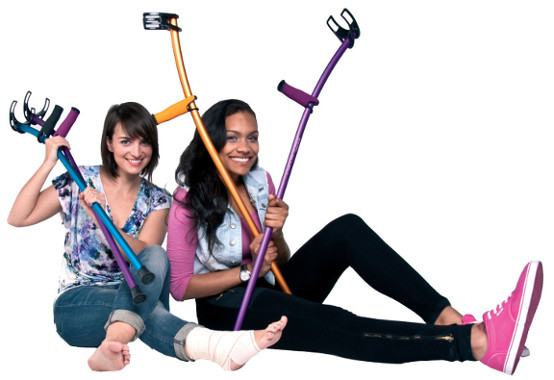 World-wide shipping (minimum 2 units)
We ship your color crutches almost everywhere, but notice that a minimum of two units (one pair) will be required. Shipping transit time will take from 1-5 days depending on delivery country. It usually takes 2 days to UK, 3 days to USA or Canada and 5 days to Australia.
NO Tendinitis guranteed
We have designed and patented a new ergonomic handgrip, with a really cool exchangeable color cover of soft silicone; We can assure you won't have pain on your hand during your leg recovery!
How do I choose my size?
Every color forearm crutch is fully adjustable simply moving the cuff and Hand-Grip along the curved area, but each size has been designed to maximize ergonomics and user comfort. Each size relates to a user's height range; this way, for example, size L is intended for user's height between 1,75m(69") and 1,85m(73").

You can see the relationship between user's height and crutches size on below table.
If you are a forearm crutch "expert", you can measure the total length of your current crutch (as in right picture), and check this lenght with the corresponding crutch size length described in the table below (h):


| | | | |
| --- | --- | --- | --- |
| Advised size according user's height | | | see right fig.(h) |
| XL | 185cm(73") / 195cm(77") | | h=118cm(46") |
| L | 175cm(69") / 185cm(73") | | h=110cm(43") |
| M | 165cm(65") / 175cm(69") | | h=105cm(41") |
| S | 155cm(61") / 165cm(65") | | h=100cm(39") |
<! Rating (numero de estrellitas): rating5.png , rating4.png, rating3.png> <! Bloque 1 de reviews>
<! Review:>
modern and cool elbow crutches
De Valdete UK - June 3, 2017

Thank you for your amazing and caring support in helping to choose the suitable elbow crutch size.
I have received the elbow crutches, I am very happy with this purchase as they do not hurt my elbow as the previous crutches, despite being very light they also look very modern and cool.
Thanks for amazing customer service support and amazing products.
I will definetely continue purchasing from you in future.
<! Review:>
modern and cool elbow crutches
De Kevin, Port Saint Lucie, Florida (US) - May 30, 2017

I could not be happier with ur product and service...thank you!
<! Review:>
happy with my new crutches
hi, i am using your crutches and i must say I am very happy with them. I will order the purple crutches also.
Best regards from Germany
Chicago, IL (US) March 23, 2017


<! FIN REVIEW> <! Review:>
INDESmed colored crutches, simply so much better.
They are simply so much better than the other ones. :)
Best regards from Chicago!!
RT (Berlin, Germany) Jan 4, 2017


<! FIN REVIEW> <! pagina:1>
(1)
<! Bloque 2 de reviews>
<! pagina:2>
(2)