Order now! +34 622 234 418
Crutch - Walking Cane Handle
| | |
| --- | --- |
| max.load: | 440lb(200Kg) |
| weight: | 0.2lb |
| cert: | CE-FDA |
| Cover: | interchangeable |
| | |
Crutches and canes hangrip
Comfort
<!fin producto>
Ergonomic Handgrip with Silicone Cover for forearm crutches

Exclusive and patented ergonomic grip for forearm crutches and canes.

An optimal gripping depends both on handle and crutch overall design.

INDESmed handle is medium hardness with an hypoallergenic silicone that distributes the body weight in the upper and sides surface.

The patented adjusting system allows the handle to move along the pole curve so the grip angle keeps the hand in natural position, avoiding nerve pitching and hence pain.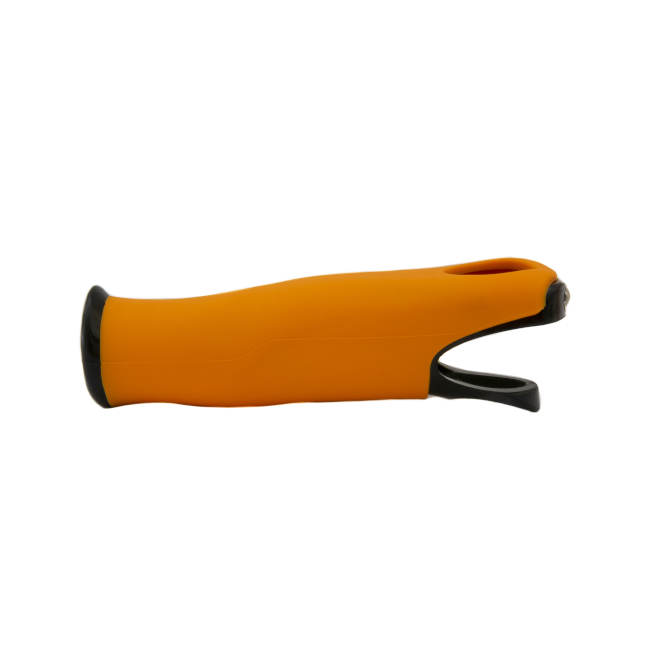 Comfort Crutches

Our handle increases considerably the crutch user comfort and avoids the known problems of the standard forearm crutches.

We can assure a gripping angle between 100-110º, keeping the natural position of the wrist, and suppressing the pain due to median an ulnar nerves.

Spreading the corporal pressure over the hand, the crutch grip design avoids the pain on the palm while improving the position of the thumb finger, decreases or totally suppresses the calluses that appear due to long-term use of crutches.
Confort Canes

INDESmed handle is fully compatible with the Carbon Fiber and Aluminum Canes.

The cane design allows very accurate handle height adjustment to take benefit of the INDESmed handgrip features.
<!Fin descripcion del producto>
<! Review:>
A truly ergonomic hand grip
Theresa from Leeds, West Yorkshire - 2018-06-09

This handgrip is truly ergonomic, it allows you to keep your wrists straight, without bending them. So you do not feel any more pain as you used to due to the use of other traditional orthopedic crutches. Just what I needed.


<! pagina:1>
(1)
<!fin reviews_div>
Copyright © 2020 Vidcapp Ithef, S.L. All Rights Reserved.
<!Fin de Estructura del Pie>

<!carga la libreria java para las imagenes>