Carbon Fiber Forearm Crutch Description
The lightest forearm crutch in the world, 220grammes, created with a carbon fiber frame, which increases considerably the specific resistance in comparison to the standard aluminum crutches.

With an exclusive curved and oval shape that allows a perfect regulation and anatomic adaptation, the continuous regulation of the handgrip and cuff improves the design, and avoids the annoying noises of the standard fixation systems.

Also exclusive, is the ergonomic handgrip design which increases considerably the users comfort and avoids the known problems of the conventional crutches:

- Keeps the natural position of the wrist, this suppresses the pain of the median an ulnar nerves.

- Spreads the corporal pressure over the hand, avoiding the pain on the palm of the hand.

- Improves the position of the thumb finger, decreasing or totally suppressing the hardness that appears due to a long-term use of crutches.

Its tip of high friction coefficient rubber and Dupon, highly improves the safety of the user and decreases simultaneously the total weight. Buy now the best forearm crutches!
<!item micro data>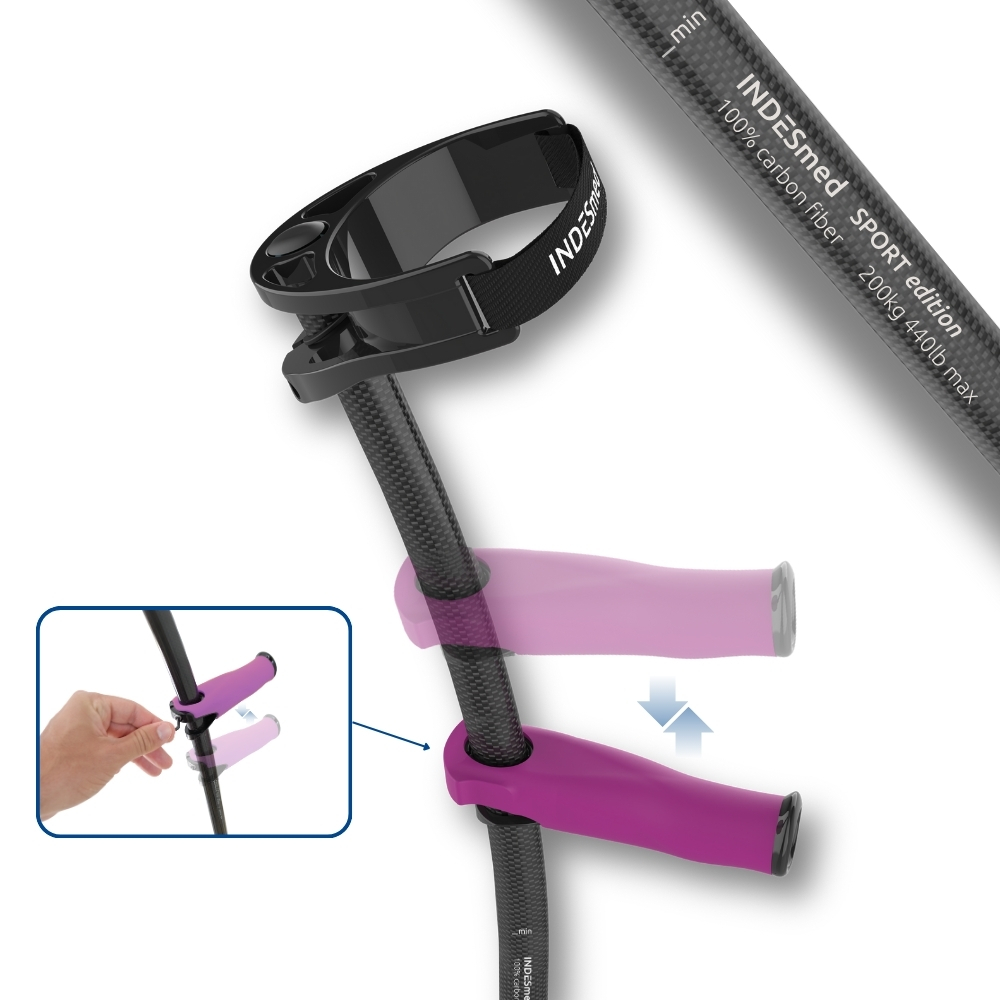 <!Fin microdata>
NO Tendonitis guranteed or your money back!
We are completely sure that you will not suffer tendonitis with our ergonomic handgrip. We are so confident about our worldwide patented design that we can say it loudly: NO tendonitis guranteed or your money back!
How do I choose my size?
Every carbon forearm crutch is fully adjustable simply moving the cuff and Hand-Grip along the curved area, but each size has been designed to maximize ergonomics and user comfort. Each size relates to a user's height range; this way, for example, size L is intended for user's height between 1,75m(69") and 1,85m(73").

You can see the relationship between user's height and crutches size on below table.
If you are a forearm crutch "expert", you can measure the total length of your current crutch (as in right picture), and check this lenght with the corresponding crutch size length described in the below table (h):


| | | | |
| --- | --- | --- | --- |
| Advised size according user's height | | | see right fig.(h) |
| XL | 185cm(73") / 195cm(77") | | h=118cm(46") |
| L | 175cm(69") / 185cm(73") | | h=110cm(43") |
| M | 165cm(65") / 175cm(69") | | h=105cm(41") |
| S | 155cm(61") / 165cm(65") | | h=100cm(39") |
<!Fin descripcion del producto>
<! Rating (numero de estrellitas): rating5.png , rating4.png, rating3.png> <! Bloque 1 de reviews>
<! Review:>
wonderful looking crutches!!
from Craig UK - June 1, 2017

They are wonderful looking crutches!! The black and orange ones perfectly match my CarbonBlack wheelchair.
<! Review:>
Your crutches are a life saver for me so light and easy to use.
from Greg (Birmingham, UK) - May 15, 2017

Wanted to let you know the package arrived safe and sound. Thank you so much for checking.
Your crutches are a life saver for me so light and easy to use. I am so glad I found your company on the internet.
<! Review:>
Crutches Invaluable aesthetically and practically
from R.S. Mold Flintshire CH7 6EH United Kingdom - May 15, 2017

I have been left permanently disabled after an accident and the two crutches I have purchased have been invaluable aesthetically and practically. Thank you.
<! Review:>
INDESmed Carbon fiber forearm crutch feedback
from Greg (Liam, NY-US) - May 12, 2017

I got the new pair of crutches today. They are a fantastic improvement, after 4 leg surgeries and way too much time spent on crutches they are by far the best I have ever used. I will gladly recommend you to anybody in the future for the great products and service.
Thank You!
<! Review:>
these are the best crutches
from P.M. Atlanta Ga - May 4, 2017

You have a great product! I am a user of your forearm crutches now for over 9 months, they are the best.
Thank You!
<! Review:>
incredible crutch
from Y. Honolulu Hawaii (US) - April 4, 2017

I just love it! I just wish I would have found it several years ago when I first started using a crutch. I have a lot of shoulder pain and tendonitis in my elbow from my old cane on one arm and I'm having shoulder surgery this month on the other. I hope that my new crutch will be a good change for good health in my future! Thank you so very much!! Sincerely,
<! Review:>
perfect crutches
from I. M. Gunderson, Alta, Norway. - March 1, 2017

Thank you very much! Perfekt. The crutches are extremely good, never seen better. I also want 4 extra rubber buttons for the crutches.
<! pagina:1>
(1)
<! Bloque 2 de reviews>
<! Rating:>
<! titulo:>
Love my crutches
<! Review:>
thank you for your prompt shipment. Actually they are much better in reality than in the pictures.
Beatrice (Chicago,IL)
<! Rating:>
<! titulo:>
a miracle
<! Review:>
I started using your crutches 1 month ago..pain in hand and shoulders is almost gone. What can I say? it's a miracle!
Lucas (London,UK)
<! pagina:2>
(2)
<!fin reviews_div> <!Estructura del Pie>
Copyright © 2017 Vidcapp Ithef, S.L. All Rights Reserved.
<!Fin de Estructura del Pie> <!carga la libreria java para las imagenes>